NRBQ, the debut album from NRBQ, was originally released in 1969. This classic and influential album - re-mixed, mastered, and with new liner notes - was reissued for the first time on March 16, 2018, by Omnivore Recordings. On CD and vinyl. Listen.
"For the all things lauded as being "quintessentially American" – like baseball or tail fins on a '50s Chevy, they all pale when compared to NRBQ. The proof is here in their first record, the self-titled classic from 1969, and it still holds true today, all those years and line-up changes later...This is a near-perfect record as is, from the rev'd-up magic of "Kentucky Slop Song" to the closing "Stay With We," and shows the band's broad range, stellar musical acumen, and at the root of it all, their sheer joy of creation. You know, like the best of America." —Ink 19
"Looking back in retrospect, NRBQ's eponymous debut seems like a remarkable feat even now. A stunningly uncommon collision of styles and sounds, it was amazingly adventurous, exploratory and wholly beyond definition when it was originally unleashed without warning in 1969. Even at a time when artists were given complete license to experiment and adapt to whatever progressive posture found them in keeping with the times, NRBQ was – and still remains – a dizzying, dazzling achievement, an example of complete creative control taken to its most unexpected extremes." —Glide Magazine
"Now is the perfect time to become familiar with this strange and utterly wonderful album." —Michael's Music Log
"...audacious brilliance ... Eclectic, daring and utterly unique, NRBQ gleefully colored outside the lines on a thrilling self-titled 1969 debut album of frenzied rock 'n' roll fun that sounds as fresh and uninhibited as ever. They did just as they pleased, even insisting on knocking everything out in one take – with famed producer Eddie Kramer watching, as the dutiful engineer – and unabashedly covering both rebellious 1950s rocker Eddie Cochran and space-jazz explorer Sun Ra. That takes some chutzpah, and NRBQ had it in spades. They were itching to show off their surprisingly mature chops and youthful energy. At the same time, they wanted to throw a party that's still going strong 49 years later. Defined by spontaneity, quicksilver guitars and keyboards, swinging rhythms and spirited genre-hopping madness, NRBQ – composed here of Terry Adams, Joey Spampinato, Frank Gadler, Tom Staley and Steve Ferguson – saved the best for last on its first record. Closer "Stay with We" is absolutely confounding, arranged in the most wonderfully weird way possible with powerful vocals and sounds that seem alien and yet familiar. And it works, as does their entire landmark debut, even though their curious mix of jazz, blues, country and rock shouldn't. What a wild ride." —Elmore Magazine
"...a 21st Century edition of NRBQ's still astounding debut that is at once true to the original yet which sounds like a layer of gauze has been removed from the recording. Don't get me wrong: this new edition still feels like my old LP pressing of the album – which was originally engineered by the legendary Eddie Kramer (Jimi Hendrix, Led Zeppelin, Kiss etc.) – but is simply sounding much clearer and more detailed. There is a warmth here on both the LP and CD that is palpable, a more sympathetic presentation of the music than my original copy, delivering improved dynamics, air and overall presence." —Audiophile Review
"It all started with NRBQ, which is just as weird as NRBQ would be through all the years, and almost as joyful." —Spectrum Culture
"The group – which had already been together for about four years when the LP first appeared – had their act down and their famous eclecticism on full display. Who else could open an album with a strong rock cover of Eddie Cochran's "C'mon Everybody" and follow that with the experimental jazz of Sun Ra's "Rocket #9"? These guys could and did, on a record that also includes diverse originals." —No Depression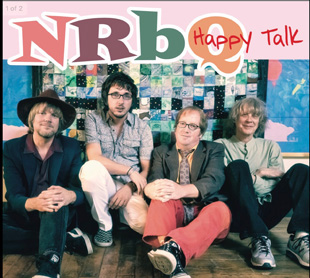 Happy Talk, a new 5-song EP from NRBQ, was released by Omnivore Recordings on October 20, 2017. Check it out!
"There's hope for this country as long as NRBQ is still with us." —The Aquarian Weekly
"Two catchy originals join three choice covers in a must-get collection that screams 'Full-length, please!' ... Charming through and through, this is a mini masterpiece." —Alan Haber's Pure Pop Radio
"More than a half-century in, NRBQ remains one of America's underappreciated cultural treasures." —Relix
"...contains all the vibrancy of the band that started back in 1966." —Exclaim!
...it's the Rodgers and Hammerstein South Pacific treasure 'Happy Talk' that truly stands out as a shiny, unexpected gemstone." —Ink 19
"Happy Talk ties the pursuit of eternal youth to the idea of timeless rock 'n' roll, and that's a reassuring turn of events." —Nashville Scene
"Coming on the heels of the splendid 2016 retrospective High Noon is a 5-song EP proving these guys still have it." —The Vinyl District
"...a spectacular group of players who can, and do, literally play anything ... this NRBQ nugget is a fine stocking stuffer for the pop music fan on your list." —Audiophile