Moe's Alley presents the MARK LETTIERRI TRIO led by the guitarist of Grammy winning group SNARKY PUPPY. Bay Area favorites POINTS NORTH share the bill.
ABOUT MARK LETTIERI-Mark Lettieri is a guitarist, composer, and producer based in Fort Worth, TX. Proficient in a multitude of styles, he records and performs in virtually every genre of popular music with both independent and major-label artists. He also composes and produces original instrumental music under his own name.
Born in the San Francisco Bay Area, Lettieri came to Texas via Texas Christian University (TCU), studying advertising and public relations, and competing in track and field. A passionate guitarist since middle school, he began his music career in the Dallas/Fort Worth Metroplex area upon graduating from TCU.
Playing in the vibrant Metroplex gospel and R&B scene led Lettieri to join jazz/world group Snarky Puppy in 2008, where he contributes as guitarist, as well as arranger and composer. The group has earned three GRAMMY Awards: Best R&B Performance ("Something" feat. Lalah Hathaway in 2014), and Best Contemporary Instrumental Album (Sylva in 2016, and Culcha Vulcha in 2017). Snarky Puppy tours constantly, having performed on every continent except Antarctica.
Aside from the Pups, Lettieri has spent time on the road with neo-soul icon Erykah Badu, gospel singer/actress Tamela Mann, and American Idol: Season 11 winner Phillip Phillips. He's also performed with a myriad of other artists, including Anthony Evans, Chrisette Michele, Myron Butler, N'dambi, Bilal, and even Pat Boone.
An in-demand session guitarist, recent work includes David Crosby, 50 Cent, Snoop Dogg, Eminem, Adam Levine, Kirk Franklin, Fred Hammond, Ledisi, Anthony Evans, Eric Roberson, Lecrae, Lupe Fiasco, Keyshia Cole, Xzibit, as well as numerous radio and television jingles. Lettieri is also a member of Team SKP, a production collective led by GRAMMY Award-winning producer Symbolyc One (Kanye West, Beyonce).
Since 2010, he has been a member of the house band for the Marcus & Joni Show, a Christian morning talk/variety show broadcast in 200 countries on the Daystar Television Network.
Lettieri has released three albums as a leader, Knows in 2011, Futurefun in 2013, and most recently, Spark and Echo in 2016 (Ropeadope Records). Spark and Echo climbed to #11 on Billboard's Jazz Albums Chart, and #2 on iTunes' Jazz Chart. Through tours with Snarky Puppy and social media network shares, these records have created a sizable buzz among fans of instrumental music worldwide. He performs frequently in a trio setting featuring a revolving rhythm section of world-class Dallas musicians, and has begun touring this music in the U.S., Europe, and Asia.
ABOUT POINTS NORTH - Points North creates melodic guitar-driven instrumental music, combining musicianship and a modern aesthetic with classic tones, song structures, and pop sensibility.
Who We Are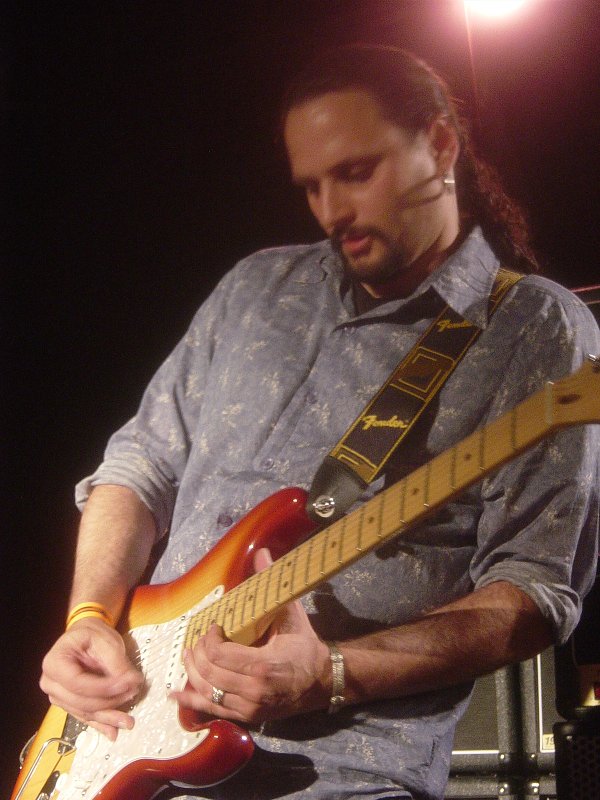 Eric Barnett

Eric Barnett (guitar) began playing music at age 5 as a violinist, attending Manhattan School of Music and Juillard summer programs. After switching to guitar, Eric attended GIT in Los Angeles, and played and taught in LA. Later on, Eric worked in New York as a studio musician, including with noted performer/producer Kenny Vance (Jay and the Americans, Steely Dan). Prior to joining Points North, Eric has shared the stage with national acts as diverse as The Offspring, Henry Rollins, Ween, Jeff Buckley, and The Lemonheads.
Eric was also a finalist in Guitar Player Magazine's Guitar Superstar 2008 Competition, hosted by Andy Summers (the Police), with judges including Joe Satriani, Steve Vai, Elliot Easton (the Cars), and George Lynch, and performed (with Points North) at the opening night of the Guitar Superstars Live! tour in San Francisco.
Eric at Guitar Player Magazine's Guitar Superstar 2008
Recent accomplishments also include work on the online game Marvel Heroes (along with Uriah), instructional videos for GuitarTricks.com, composing and producing the lead track for Pinball Hall of Fame: The Williams Collection (a video game title for Crave Entertainment, PlayStation 2, PlayStation 3, PlayStation Portable, and Xbox 360), composing and performing television cues published via Atrium Music Group, and collaborating with esteemed composer Mark Griskey (best known for his work on the Star Wars videogame franchise) on video game and movie trailer work.
Eric is a Fender Artist, and is endorsed by TC Electronics, Egnater Amplification, Seymour Duncan pickups, Mogami cables, MXL Microphones, and Sfarzo Strings.
Points North represents a long time dream of Ericís to develop the guitar as a lead instrument and primary voice.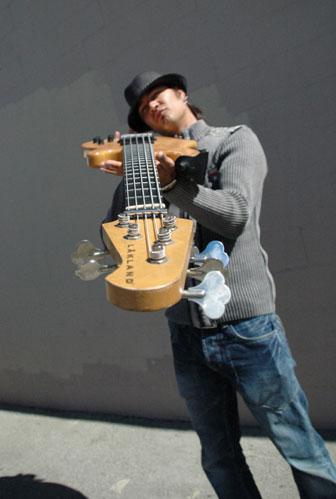 Uriah Duffy
Uriah Duffy has been been the "go to" bassist for nearly every genre since he picked up the bass at 10 years old. For the past 15 years, he's based himself in the San Francisco Bay Area lending his bottom end to stages large and small around the world - multiple times. For 5 years he was a member of the legendary rock group Whitesnake. While doing that, he maintained a healthy workload with credits including the likes of Christina Aguilera, Alicia Keys, Too Short, Sly & the Family Stone, Pat Travers, Starship & more. Growing up around funk, pop, metal & rock has rounded out his skill set as a working bassist, but upon meeting the group Points North, Uriah has been able to release some of his former East coast Classic Rock & Prog influences. Uriah brings a dynamic combination of technicality, versitility & feel that is uniquely suited to the inherent challenges in being a bassist in an instrumental three piece band.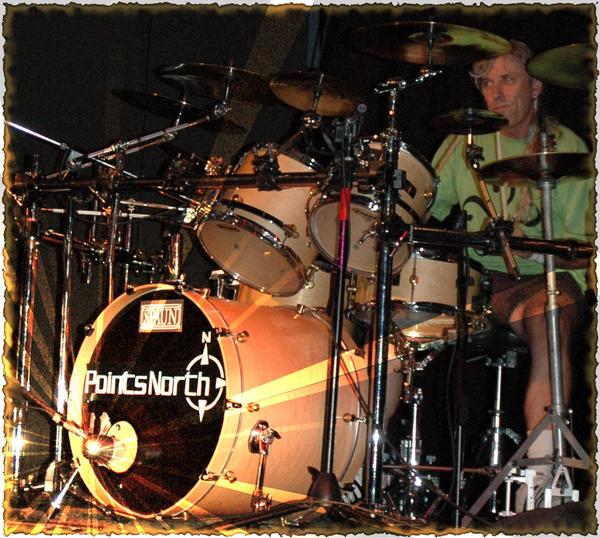 Kevin Aiello
Kevin Aiello (drums) is a seasoned veteran drummer who grew up in the SF Bay Area. Having played in many working bands over the years covering many styles, Kevin brings versatility and an amazing range of musical knowledge to Points North. Prior to joining Points North, he has shared the stage with a number of classic blues acts such as Etta James, Mark Ford, Stu Blank, and the Paul Butterfield Blues Band. A long-time fan of instrumental music, Kevin's solid foundation and visually exciting approach is the perfect compliment and adds a fine finish to Points North.